Letters from LICH Supporters
Open Letter to SUNY from LICH community groups
The attached open letter was delivered yesterday (January 23) to Carl McCall, the SUNY Trustees, Mayor de Blasio, Public Advocate Tish James, and other elected officials. It is signed by the six community groups who are co-petitioners in the LICH-related cases before Justices Baynes and Demarest. We think it's important and are therefore sharing it with the press. 

Summary: 
-The six community groups thank certain elected officials for their support in keeping LICH open. 
-We call for SUNY's RFP process to be dismissed and for a new RFP process to be designed with community stakeholder voting power. 
-In deciding to close LICH, SUNY has done no assessment of community health needs and no disaster-preparedness assessment. Furthermore, SUNY has never consulted any community group or local elected official in its plans for LICH. 
-SUNY's RFP process improperly discouraged responses from full-service hospital operators. 
-SUNY's decision to sell LICH was first and foremost a response to SUNY's own financial distress. 
-SUNY's claims regarding LICH's alleged liabilities are based on false representations, which we debunk point by point in the letter. 
-SUNY must account for the $85.7 million in Othmer funds that it directed to a malpractice trust, not all of which has been used to settle malpractice cases. SUNY must also account for all other missing portions of the $140 million Othmer Endowment. 
-We stand ready to partner with SUNY in finding solutions for LICH whenever they are willing to talk with us. 
 Please See attachment & share with everyone
OPEN LETTER TO THE COMMUNITY AND SUNY
January 22, 2014

Jeff Strabone 
Board Member, Cobble Hill Association
Letter from: Julie Semente, RN
SUNY Trustee Chair H. Carl McCall is insistent that the community should accommodate the needs of the budget. We think it should be the opposite. SUNY should accommodate the needs of the community.
On Jan 14, LICH NYSNA nurses, 1199SEIU LICH staff,  LICH patients, and community residents went to Albany for the second day in a row to confront SUNY Trustees and McCall on proposals that would close the hospital, turn LICH into condos or apartments and NON-emergent urgent care facilities.
SUNY is deceiving the public by promoting a free standing "emergency room", when such a facility cannot accept life threatening emergencies, & does not provide critical emergency services. It is actually a non-emergent care room, otherwise known as "urgent care". In a real emergency, community residents will be in traffic traveling longer distances to another hospital. Last summer Bill DeBlasio held several press conferences releasing his reports about that and revealing charts that outlined those distances from the many neighborhoods that rely on LICH. In an emergency, moments can mean life or death. Without LICH, there will be no emergency services, no critical hospital services from Red Hook to Williamsburg to Downtown. Without LICH, this booming borough's other hospitals will be over-run with longer waits for care, as we saw happen all last summer when SUNY illegally closed LICH's emergency room. The community surrounding LICH was very clear about how unacceptable this was. They sued SUNY over it.
Closing the hospital and replacing it with non-emergent services is more of the same and is exactly what we have all been fighting against for an entire year, yet after all this time, this is still what SUNY is considering - proposals that do not offer life-saving services. If this was acceptable, we would not have fought it for a year, SUNY could have converted LICH to non-emergent facilities long ago, and we could have saved ourselves a lot of time & energy. But it's not enough.
There must be critical hospital services and real emergency services at LICH. The stand alone "ER" will handle bumps, bruises, coughs, colds, and function as a transfer station to siphon patients to other hospitals.
SUNY has spent months trying to keep doctors and patients out of LICH, creating a situation where doctors are not allowed to schedule procedures or utilize the fully staffed operating rooms. Why can't we have the number of patients for which we are currently staffed? Because keeping the place artificially empty suits SUNY's PR spin. SUNY deliberately cut off as many sources of LICH income as it could, then cries to the press that there's no income. This situation was engineered, orchestrated to provide an "excuse" to close the hospital. It's eye-opening to see how under-handedly people in power in our State are allowed to operate.
How much money would have been saved if, when SUNY said they wanted out of LICH last January, they had kept it fully operational while they went through an RFP process for a new hospital operator. Beds would have been full to capacity all along, as they always were until SUNY physically pulled the patients out of them last June and July. There would have been money coming in while they searched for that new operator (if someone other than Continuum was billing for service). SUNY might already have been out of LICH by now & would not have wasted taxpayer millions on their illegal actions and resulting lawsuits. ALL losses that they claim at LICH are directly of their own doing. It's not LICH's loss - it's money SUNY chose to throw away by illegally barring LICH from being utilized.
SUNY has been entirely irresponsible and unreasonable and is in a debacle of their making. Their irresponsibility may now affect their own students, so they spin the PR to blame LICH and the community that wants to protect themselves by saving it from closure. But as a parent of a SUNY student, I know tuition increases were already scheduled for 2014 a long time ago and LICH is not the cause of SUNY's troubles. SUNY is.  
SUNY has a responsibility to the communities that depend on LICH.  The people need critical hospital services. They need real emergency services that can treat life-threatening emergencies. Last week, a life was saved because LICH still has a real emergency room functioning. Last week, lives were saved in LICH's almost-full to capacity ICU, which is still fully operational because LICH is still a hospital. These patients were rushed over to LICH by family or friends because they knew the ambulances wouldn't be allowed to take them to LICH. They are alive this week because LICH still exists as a hospital.
Before any decisions are made by SUNY to sell LICH off to the highest bidder, there must be a real assessment of community needs. The community's voice must be heard. SUNY has wasted a year of time and money denying them that voice. It's why we went to Albany again on January 13th and 14th. The Save LICH team presented McCall with 18,000 hand-signed petitions from Brooklyn residents demanding SUNY fulfill its responsibility to the Brooklyn community & keep LICH a hospital because LICH saves lives.
It may be that LICH, as a hospital, might need some restructuring for the future, and that will have to be looked at going forward, after it is saved from this present threat. But the Save LICH Coalition has had one message for the past year: We need a real hospital with critical services and life-saving emergency services. SUNY has made no effort to find an operator to provide that. We are not playing games here. SUNY should not be playing games with our lives either.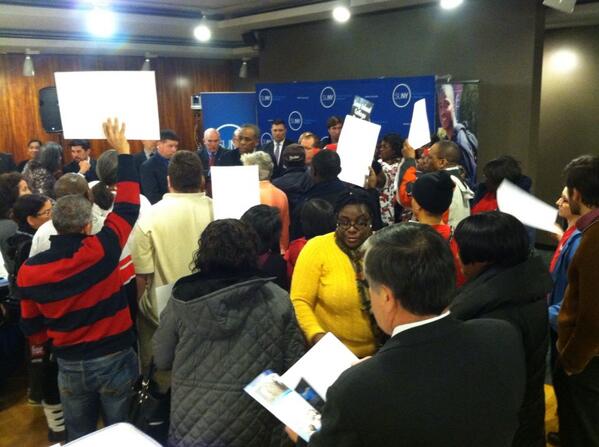 Patients for LICH, community residents of Brooklyn Heights, Cobble Hill, Carroll Gardens, Red Hook, & Downtown area join LICH's NYSNA nurses & 1199 caregivers confronting McCall over LICH proposed closure at SUNY's Albany Trustees meeting 1/14/14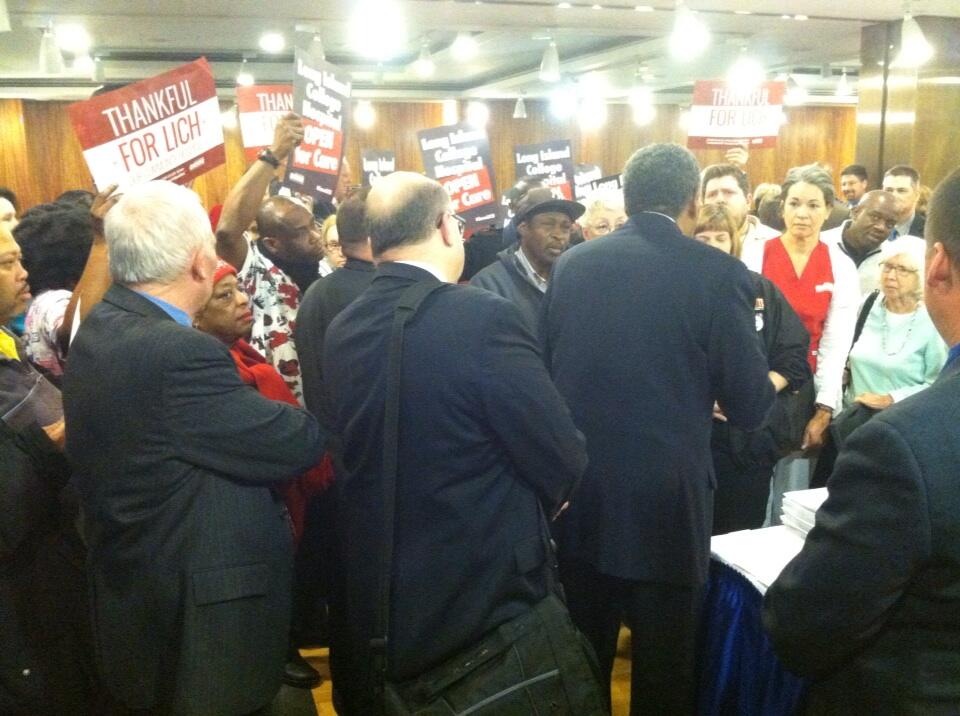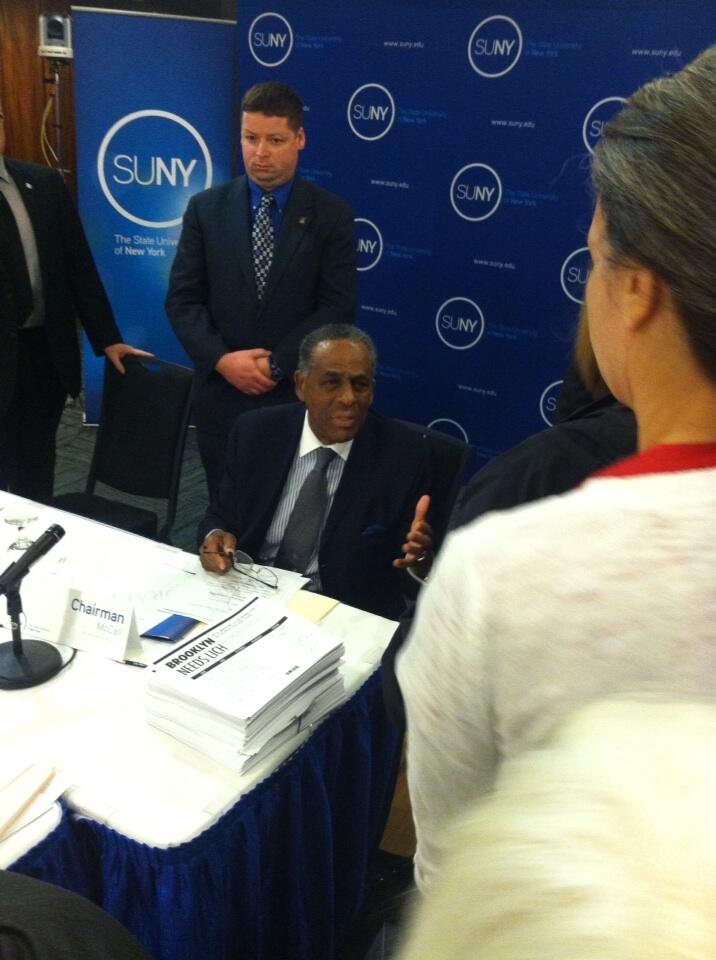 SUNY Trustee Chair H. Carl McCall faces LICH patients and community members from several neighborhoods that depend on LICH, after receiving 18,000 hand-signed petitions from Brooklyn residents demanding LICH remain a hospital.
  All photos: the New York State Nurses Assoc
Open Letter to The LICH Community
Dear all:
I have received literally dozens of calls and emails from many folks concerned about LICH, including about rumors that SUNY will soon award an "irrevocable" contract to one of the parties who responded to the Request for Proposal ("RFP"). I want to reassure you of three things.
-  First, all of the Petitioners in the legal actions against SUNY and the Department of Health
-the Public Advocate, the many community groups, Concerned Physicians, the New York State Nurses Association, and 1199 SEIU -are working very hard to make sure we keep medical services at LICH.
-   Second, if SUNY selects a party for the RFP award, it is NOT the end of the RFP process: they still need a period of time to actually negotiate a contract.  During that time, we will explore every possible legal option, including the viability of a new lawsuit on everyone's behalf to block the contract.
-  Third, any deal to transfer the hospital will STILL REQUIRE approval from Justice Carolyn Demarest.  So, no matter what, the case has to go back to court.
As you know, we have delayed the contempt hearing to let the process play out a bit more . This was a difficult decision, since all the people affected by SUNY' s wrongful and illegal actions deserve justice.   As much as all the Petitioners' lawyers are hoping to have that justice delivered, we believe the legal victories to date have elevated decision-making within SUNY.  It seems that cooler heads are using more mature judgment.   We are hopeful
SUNY' s actions, and their negotiations, will be marked by good faith in the coming weeks. We are seeing the first hopeful signs.  But -Ipromise you  -we will not hesitate to act   if the situation again deteriorates, as we have in the past.
If a settlement does not occur, the contempt hearing is rescheduled before Justice Johnny Lee Baynes for January 21, 2014.
Happy holidays,
» all summary briefing document (pdf)
Letter from Peter J. Betts, former CEO of LICH - 8/29/13
August 27, 2013
Toomas Sorra, M.D.
President of the Board
Concerned Physicians of LICH
554 Henry Street
Brooklyn, NY 11231

Dear Tom,

I enjoyed speaking with you on Friday and hope your trip (to Vermont?) was uneventful and
you have started to relax. Thank you for your contact information and especially for the
Concerned Physicians of LICH web site. I continue to be very interested in LICH and I have
been through a portion of the site and found it full of good information. My, how things have
changed since I left! I continue to receive calls from some members of the staff but the
extent of the change is a revelation. I know some of your Board members and ask you to
please convey my "Hello!" to all of them, particularly to Balendu Vasavada whom I worked
with more closely.

I was very disappointed to be pulled out of LICH last December as my wife, Pat, and I were
so looking forward to being there for several years (she travels with me). Unlike many in
my profession, we do not return home every weekend preferring to get to know the
community and to travel over the weekends in and around where we happen to be. We
were thoroughly enjoying Brooklyn and were so pleased with how welcome we were made
to feel.

I have been in many challenged hospitals over the years and LICH is no exception.
Actually, it was in better condition than some as there was a source of funds (I was the
interim in 2 hospitals which had less than one day's cash on hand with payroll due when I
arrived). LICH also has many resources and assets which could be leveraged to help
stabilize it and then used to help achieve a turnaround. I always do an assessment when I
accept an engagement, which is then used to create a turnaround plan with specific targets
and due dates. I believe in sharing just as much information as I can with the medical staff
and employees for, after all, we are all adults and the future of the organization is in our
hands. Failure not only costs the community but also each of us and our families and,
happily, I have not lost a hospital yet. A turnaround plan may reasonably predict where the
organization can be positioned. If all of us know where we are going, and how we are doing
along the journey, it is so much easier to get the hard work getting there done.

I was particularly impressed with the staff of LICH. Many employees had been there for
decades and were loyal. There is a lot of talent and, even following the staff reduction, they
were committed to doing what was needed to be done with less help. Many of the systems
required to make the work easier and time more productive needed to be used or developed


and instaalled. Howeever, there wwas a willin gness and vvery strong commitmennt to make LLICH
work.
aalled. Howeever, there wwas a willin gness and vvery strong commitmennt to make LLICH
work.

Every hoospital mustt depend up on its mediccal staff for patients as well as clinnical quality.. A
partnership betweenn managem ent and thee medical staaff is absoluutely essent tial. I like too
work witth the staff tto create a cclinical visioon (where are we in gasstroenteroloogy, where ddo
we need to be, and how do we get there?) and mergee it into the strategic plaan (capital
expendittures, markeet goals, an d vision) soo the medicaal staff and manageme nt are all puulling
in the saame directio n. A very sstrong assett LICH has iss its medicaal staff. Thee depth and
breadth of the cliniccal specialtiees, coupled with the teaaching prog rams, was rremarkable.. A
number of physicianns who weree not on thee LICH staff were anxiouus to join (oone could brring
1,000 addmissions) aand a surgeoon presentlyy on the staaff could tripple his volumme with a mminor,
but doabble, change in malpract ice coverag e. Even mo re importannt, the staff was willing to
do what it took to a chieve a shaared vision for LICH, w hich includeed some keyy decisions
made byy the OR andd Medical Exxecutive Commmittees. I was told ssome physiccians were
particulaarly difficult to work wit h. Two of tthese chroniically did noot show up i n the OR onn
time. I hhad brief disscussions with each andd gained theeir support immediatelyy. One even
called m e in the morning as he arrived to pproudly tell me he was there on timme. All that was
needed wwas mutual respect andd support, aa common v vision and haard work. TThese are goood
people wwho could buuild their se rvice with some supporrt; our goalss were the ssame and all we
needed tto do was taalk and shakke hands. Thhey were noot difficult too work with at all and II
consider them friendds.

The community wass wonderful as well. I mmet with somme of its leaaders who thought so
highly off LICH and wwanted nothhing more thhan its succ cess. Those I asked to promote LICCH
to their cconstituentss were happpy to do so i n their conggregations aand on TV. It is estimaated
that 30%% of the folkks in the areea went to MManhattan foor hospital ccare. LICH needed to
overcome the cloud of closure aand give theem a reasonn to stay clooser to homee and familyy.
Working together, I saw no rea son why thee medical sttaff, employyees and co mmunity
leadersh ip could nott get this doone.

I was ve ry surprisedd to learn off the decisioons to eliminnate residenncy matchess, divert
ambulannces, close t he OR and rrefuse admiissions as thhese actionss were not sshared with me
or projeccted in the pplans I did ssee. I am happy to learn of the Cooncerned Phhysicians of
LICH; annd, Judge Deemarest's AAugust 20th OOrder was sstartling. I aam most intterested to see
what herr next decis ion will be following Labbor Day.

Tom, pleease keep mme in the information loop as I am most intereested in whaat develops at
LICH. Of course, if there is anyything I can do to be off assistance,, please let me know.

I hope you enjoy a ffew days of respite.

Sincerelyy,


Peter J. Betts, LFACHE
President

Peter J. Betts & AAssociates, Inc., 88006 Collingwoodd Court, Bradentoon, FL 34201
www.peterjbettts.com peter@peterjbetts..com 9411/358-6131

» all summary briefing document (pdf)
letter from Erik Marketan
LICH EMS Department from Cobble Hill says:
(this is an addition to the LICH historical timeline that was published in the Brooklyn Daily Eagle)

Sept. 11th 2001. Long Island College Hospital '911' Paramedic Unit 32Victor, awaiting assignment at on the Brooklyn waterfront, witnessed the first plane strike the WTC.
They were one of the first units to arrive, and treated and transported one of the first severely injured patients rescued from the building, who had been critically burned from jet fuel while waiting for an elevator in the sky lobby.
Long Island College Hospital '911' Paramedic Unit 32Xray responded from Red Hook via the Battery Tunnel, arriving just as the second plane struck. Nearby residing off-duty LICH EMS workers voluntarily recalled themselves to the Red Hook EMS Garage and responded in spare vehicles. Two members were directly under one Tower unloading equipment when it collapsed. They survived by running into an adjacent building lobby. Their ambulance was destroyed.
Meanwhile, the Hospital fully mobilized, with ER staff receiving a number of critically injured patients by ambulance, and scores of 'walking-wounded' who evacuated across the Brooklyn Bridge. Triage was set up on Hicks Street, with on-duty staff remaining at the hospital for days, and many others who voluntarily recalled themselves and relieved them. LICH EMS workers volunteered for duty on 'the pile', digging and supporting the efforts in the days following the attack.

Letter from Emily Berleth to NY Times
To the Editor:



I find curious the sparse Times coverage of the closure of Long Island College Hospital. Today in your paper a large article on healthcare in Utah but where is the continuous coverage investigating what is happening  to healthcare across the river in downtown Brooklyn?  For example, what happened to the Othmer bequest and to money from the selloff of LICH real estate? Why is LICH still paying Continuum, that no longer owns it? Why is SUNY able to ignore court orders? Why have Governor Cuomo and Mayor Bloomberg not spoken? Brooklyn is being packed with new development while our public services--the hospital that serves all South Brooklyn, the public libraries--are being prepared to be sold off to developers. It seems to me this would be of interest to your local readers.


Emily Berleth
Brooklyn, NY

Best, Emily Berleth
Letter from Jeff Strabone re: TRO Violations - 7/20/13
Reports are still coming on about TRO violations at SUNY. The NYPD has been called back after an ambulance was turned away.
I am re-sending below the message about how to report violations. Please share it with everyone on staff. Paper copies may be necessary
for people without e-mail.

If you see TRO violations, please report them ASAP to Emma Wolf: emma@billdeblasio.com

Public Advocate Bill de Blasio's office needs to know particularly who wants to transfer the patients, what their title is
(medical/non-medical), and what rationale they are offering for the transfer (medical/non-medical). Also, who is objecting to the transfer, and on what grounds.
If anyone has any information relating to failed patient care or staff harassment, please contact lead counsel Jim Walden:

jwalden@gibsondunn.com
Jeff Strabone
Minister of Information
LICH AND ELECTEDS: IS SILENCE COMPLICITY?
On July 18th, and against court order, SUNY attempted to deal Long Island College Hospital the final death blow by suddenly swooping down & trying to close off every part of the hospital that they could. This Gestapo tactic suggest that fear of the truth being found out (LICH was solvent) and the chance of losing the windfall profit of attempting to sell LICH off, were likely their motivating factors.
Earlier this year SUNY had admitted to lying about LICH's viability. Despite this, SUNY has repeatedly removed programs and equipment from LICH against court orders not to. Our highest ranking city and state officials have chosen not to protect us from this ongoing assault on our healthcare system while their strange and deafening silence hasn't approached even "lip service" on the issue. The half billion dollar question may be its own answer.
Why is our Mayor so concerned with our smoking, sodas and a million new trees but so notably silent about LICH and the 15 hospitals lost during his 11 year tenure?  Aren't hospitals related to our health?
Governor Cuomo has repeatedly been asked to help with LICH and other hospitals – is it his former involvement with the main person attempting to destroy LICH that keeps him from responding and that  keeps him so silent on such an important issue to millions?
Attorney General Schneiderman, you have been magnificent on so many other issues, why so silent on this one where court orders are repeatedly being ignored? Not your jurisdiction? Still could comment.  
And Judge J.L. Baynes whose decisions against SUNY are so well appreciated but because his orders provided no serious consequences to SUNY, he effectively relegates himself to the same level as a mother in a supermarket who keeps saying "Stop!, Don't!, Quit!", while her young son destroys aisle after aisle. In fact, the lack of serious enforcement has allowed SUNY to continue to unlawfully dismantle LICH while we think that it's being protected. Without the incentive of huge fines and jail time added to his orders, SUNY will continue to disrespect the Judge and his rulings to the detriment and ultimate demise of this sustainable hospital.
The danger from the inactivity of those with the ability to halt the needless and greed driven destruction of LICH, is already manifesting itself in 30 minute ambulance arrivals and 1-9 additional hrs. of waiting time in the emergency rooms of bordering hospitals.  "Brooklyn Hospital's" emergency room, overwhelmed by LICH area emergencies, is now itself diverting ambulances that LICH is capable of handling except for the unwarranted  interference of SUNY.
 This concocted dismantling of LICH is already having a domino effect across Brooklyn healthcare and will eventually spread to other Boros, yet every official who could stop it is totally silent. To borrow from an old-timer I met some yrs. ago, "The sound of their combined outrage wouldn't rise to that of a mouse pissing on cotton."… Hardly a picture that denotes leadership – or even respect for the people of this city.
Right now we only need these 3 things from you:
A moratorium on all hospital closings until we can come up with an acceptable plan.
Have SUNY return programs, personnel and equipment to LICH immediately in order to stabilize it and remove pressure on surrounding hospitals.
Have SUNY release the financial records that prove that LICH was and can again be a viable health facility.
 Skipp Roseboro

 Community Advocate
Responses to NY Daily News Editorial lies about LICH
Appeared in NY Daily News Letters to the Editor Voices of the People
Sunday 7/14/13:
LICH's heart is beating strong
Corona: Re "Empty prescriptions" (editorial, July 11): I am fortunate to have worked at Long Island College Hospital for almost 25 years. I have witnessed the lies and illegal actions by SUNY Downstate. Your editorial also has false information. It states that LICH "turns away ambulances from its emergency room." The fact is that SUNY Downstate called FDNY and instructed them to divert all ambulances away from our emergency room. Your editorial also states that "the best doctors and nurses fled." You failed to mention that SUNY, defying the judge's orders, discontinued the residency program for doctors. There are plenty of good nurses and doctors still working at LICH. The reason we currently have such a small number of patients is that SUNY has prevented any new admissions via the ER, has prevented things like elective surgery and has transferred any LICH patients to the Downstate campus on Clarkson Ave. LICH is still a much-needed and much-loved hospital. Just come and talk to our patients and neighbors and find out.

Alison Saydee
A Story from the Real streets of Brooklyn
Summary:
A nine year old boy in Brooklyn Heights needed to be seen at an Emergency Room.
The LICH ER had been closed by SUNY-Downstate.
Methodist was overrun and was not accepting patients.
It is not clear what was the situation at Brooklyn and Lutheran Hospitals; but the ER recommended to the EMS and the PD and the Mom was sent to Woodhull, to the great dis-satisfaction of all concerned.
An emergency from Bklyn Hts / Downtown Bklyn having to go to Woodhull Hospital?
This episode started at 11-11:30am and was not resolved at 1pm.
The Emergency Medical System in Brooklyn on that day was so broken that a nine year old boy was unable to get timely care.
If LICH had been open the boy could have been there in three minutes.
Closing LICH and its' ER was the final blow that brought the Brooklyn Emergency Medical System to its' knees.
Emergency medical care for all of Downtown Brooklyn, Dumbo, Brooklyn Heights, Cobble Hill, Redhook and the areas normally served by the Brooklyn, Methodist and Lutheran Hospitals would have had to have gone to Woodhull Hospital. (?!?!)
Closing LICH and its' Emergency Room will drop the 60,000 people using the LICH ER on the other area hospitals, which clearly are fighting to remain available at this time.
As this "incident" demonstrates that closing LICH is absolutely unacceptable.
Respectfully submitted,
JonJack Berall, M.D., M.P.H., Lt. Cmdr(Ret)
ER Physician, resident of Brooklyn.
Letter from Dr. Jon Berall - 7/2/13
Streets of Brooklyn since LICH ER closure

This is what is going on in the streets of Brooklyn, now.
As I recall, it was Thursday morning, 6/ 27/ 13, around 11 - 11:30 when I crossed the intersection of Hicks and Pierrepont Streets to go to the senior center at 55 Pierrepont. There was a mother with two kids standing on the corner; the older one, who appeared to be about 8 or 9 years old, was crying. When I came out of the center about 12:30 pm, the same mother and two kids were at the corner. In addition, there was an ambulance on that same NE corner, blocking the crosswalk, making it difficult to cross. There were two police officers and two EMTs there, at least two of them on phones discussing what to do about the case. The discussion they were having indicated that LICH was diverting to Methodist, but Methodist was not taking any calls at that time so they would have to divert to WOODHULL! Much discussion ensued about diverting to a hospital so far away. After a while, one of the officers called again and emphasized that it was a pediatric call and could Methodist take it? I believe the answer was that Methodist would take a pediatric call. I crossed Pierrepont towards Montague and when I came back about 1 pm the ambulance was still there blocking the crosswalk, as were the mother, two kids, EMTs and Police Officers. Not sure what the outcome was.
LICH should not be closed" - Steven Abel - 7/1/13
What happened during and after Sandy ... NYU/Langone (evacuated, flooded, closed - $800 Million to repair!!) Bellevue (evacuated flooded and closed - another $800 Mil?!! Coney Island Hospital (evacuated flooded and closed!!). The ONLY HOSPITAL left- standing ready, willing and able to serve lower Manhattan and downtown Brooklyn in time of Federal, State, City emergency was and still is LICH. St. Vincents long-closed (no where Lower Manhattan to go) If NY State, City, Federal truly worried about Emergengy-preparedness and Sustainability should not even consider closing LICH and any Post-Sandy Funds ($Billion+ now available) should be directed toward maintaining LICH and giving it the injection/investment it needs to become a world-class Emergency and Teaching Hospital Facility/College. SUNY-Flatbush is a dump and should be sold off and closed. Kings County directly across street. Thank you - sincerely yours,


SUNY is ending a 150-YEAR OLD RESIDENCY PROGRAM on June 30th and has removed itself from accredidation while lawsuit pending. They are using every trick in the book to effectively close and sell-off LICH. The real campus that should be closed and sold off is the Flatbush campus (why the redundant facilities and services there directly across from Kings County). SUNY's buildings there are falling down and I would not wish on anyone to have to go there for treatment or services. LICH is a gem and was the first of its kind in New York.

Four grounds should be cited immediately and communicated to Governor Cuomo, our Congressmen/Senators, Mayor Bloomberg, and President Obama (via Health and Human Services) to prevent LICH from closing ordering SUNY Board to "cease and desist" from its intimidation and destruction.
The following ground should be cited and communicated immediately:

(1) LICH is a Landmark - established in 1860 LICH modeled and has operated the 1st residency hospital program in the nation if not New York City. It is a Landmark that operates in Brooklyn Heights/Cobble Hill and should be protected as such. Landmark provision should be upheld and implemented immediately - LICH is a 150-year program and is part of Brooklyn's heritage.

(2) FEMA and NYC mandate Emergency Preparedness - where do First responders and where are the people of our community to go and turn in the face of emergency and disaster - World Trade Center and Sandy being two real events that affected us and continues to be in our thoughts and affect us and the actions we take every day. LICH's location across from lower Manhattan and its proximity to communities that were most affected by Sandy stands pat. NYU Langone was destroyed!-LICH stood through the Storm!!!

(3) Closing LICH flies in the face of ObamaCare - closing LICH-Residency program and transfering to a distant hospital area that already has plenty of facilities (ie: Kings County + SUNY Downstate operating directly across from Kings County) while Downtown Brooklyn, Manhattan, Red Hook and Gowanus will have no affordable and accessible full-service healthcare available or emergency response possible within 2 miles if LICH closed and/or continues to be picked apart. Average citizens-certainly Self-employed and Working Families living in BklynHts, Cobble Hill, DUMBO, Downtown depend on the affordable healthcare options LICH Residency program nd quality full-service facilities/specialists provide (many of whom are considered among the very best doctors and teachers in their fields). Obamacare requires Hospitals be there if family opts for Hospital plan only. Blue Cross provides such a plan that costs only $2,000/year for a family of 4 and covers all services and procedures completed by a hospital. This no longer works nor is it an viable and affordable option for a family of 4 if LICH closes. Closing/stripping LICH of its residency program, services, equipment effectively eliminates reasonable, affordable, quality healthcare option for thousands that
live and work in our area.

(4) Brooklyn Techology/Education Triangle - NYU-Poly, Pratt and Cornell are all connected to Brooklyn now. Incubators and incentives abound for Higher Education and Technology moving to Brooklyn. Surely LICH campus should be part of this. Brooklyn is also most active at Elementary, Middle and Upper/High School level sports and education. Taking LICH away and not considering its potential being and becoming a world-class medical facility given its proximity to world-class state of the art education and public service facilities (including Brooklyn Bridge Park, DUMBO, Downtown Brooklyn, Atlantic Yards, Manhattan, Cobble Hill and Red Hook) would be and is a huge mistake if not considered. LICH should be a beacon and be part of Technology and Education Triangle.

Have you ever gone over to SUNY in Flatbush? I wouldn't wish it on anyone. It is directly across the street from Kings County and is downight scary. LICH is treating their residents and nurses like SH*T sending them there. As a result, Head of Nursing at LICH quit last week because quality healthcare no longer possible. I had a conversation with a Resident at LICH last week and he just shook his head. They are confused and scared how this could be happening when LICH is and could be a world-class hospital facility.

Steven L. Abel
Letter from Barbara Gartner to Dr. Michael Lucchesi - SUNY/DMC
Stop transporting fragile patients out of LICH

TO DOCTOR LUCCHESI, MEDICAL DIRECTOR, SUNY-DOWNSTATE:
Can you imagine the terror of a frail, vulnerable ICU patient who is suddenly wrapped in sheets, rolled out of her room, taken outside, and put in a vehicle with strangers, to travel to who knows where, wondering with each bump in the road whether she will survive? I can. My mother-in-law, terminally ill, was transferred one evening from a Florida hospital to a hospice, with no family or friends around. She called out frantically for hours that night before giving up and going into a coma, from which she never woke up. I arrived early the next morning to find her in the coma, and she died that afternoon.

As a widow in my seventies, I have seen my share of sickness, death and dying. I have no question that what you did yesterday in unnecessarily and possibly involuntarily transporting fragile ICU and critical care patients out of Long Island College Hospital was medical malpractice that may well affect the recovery or even the survival of those patients.
You told me you do not have enough staff, but the nurses are all there, and if SUNY is taking away the residents and causing a shortage of doctors, it is your responsibility to bring doctors to the hospital, rather than transporting fragile patients out. I have no doubt you could find a way to do so if you wanted.
In addition to creating unnecessary medical risk, your decision to move such vulnerable patients was, quite simply, cruel. You seem to have made a long, sad journey from the day you took the Hippocratic Oath to what you are now doing to patients in your charge, at the bidding of SUNY-Downstate Medical Center. I hope your conscience will tell you to stop.
B. Gartner, Brooklyn Heights Resident and LICH Patient
Letter to Andrew Cuomo from Arnold Licht MD - 6/22/2013
Governor Cuomo,

As Attorney General you 1) refused to consider an expertly devised plan submitted by the LICH Medical Staff for the hospital's future 2) you quashed an ongoing investigation of Continuum's wrong doing against LICH and 3) against medical staff objection you "gave" LICH to that administrative disaster SUNY-Downstste. You,sir, are in large part responsible for LICH's impending demise.
SUNY, continuing to ignore a court order, is rapidly moving to shutter LICH. As Governor you are the only individual capable of putting an end to this evolving tragedy allowing competent people to negotiate LICH's future. You have an opportunity to reverse the mistake you made about LICH as Attorney General.
If you fail to act LICH will die and you will have helped to kill it.
This will be remembered when you stand for election before the people.

Arnold Licht, MD FAPA
Cobble Hill resident
Former President of LICH Medical Staff
Retired Chairman of Psychiatry LICH
Chief Physician Brooklyn Psychiatric Associates
Andrew Cuomo: Save our Hospital – Don't Close It.
Friends and Neighbors - LICH needs your support this Saturday! The fight to save our hospital continues, and is at a critical juncture right now. Against the odds, we won the first round, when SUNY withdrew its closure plan for LICH. But make no mistake: right now, LICH is again in very serious danger of closing. Despite their public claims that they want to find a solution to keep the hospital running, SUNY is in fact still trying to shut down LICH and sell it off for real estate development.
SUNY is pretending they are searching for a white knight buyer to operate the hospital, but the process is a sham - and in fact they are still trying to close LICH. Meanwhile, Governor Cuomo is absent on this vital issue, leaving everything up to SUNY and the Department of Health (DOH), who want the hospital closed.
Our neighborhoods need our community hospital. We need the vital care provided at LICH - and there are also thousands of jobs at stake. Governor Cuomo oversees SUNY and the DOH. It's time for Governor Cuomo to stop neglecting this issue, thereby allowing SUNY to close LICH. Join moms, dads, babies, kids, LICH workers, and concerned members of the community for another Toddler Speakout and Stroller March.
Saturday, June 22nd at 10A at the LICH Playground
Toddler Speakout and Stroller March to
SAVE LICH
Meet at the LICH Playground. We will Rally and then March to Borough Hall to Send a Message to Andrew Cuomo: Don't Close our Community Hospital!
--
Ashley Thompson
(609)209-5435
Letter from Jane McGroarty to Governor Cuomo - 6/12/2013
Dear Mr. Smiley,
I am writing to ask you, as Governor Cuomo's representative, to please tell the Governor how important this hospital is to downtown Brooklyn and the surrounding residential neighborhoods. This is an institution that has served Brooklyn for 150 years and should not be shuttered without a full and serious exploration of alternatives. Several generations of my family have been patients served by LICH physicians, and in 2009 my granddaughter was born there.

It is apparent that SUNY Downstate cannot run this hospital. SUNY failed to follow the various recommendations surrounding the merger in 2011 nor did they implement any strategies that would have made the merger successful. According to SUNY Chancellor Zimpher (in recent testimony before a State Senate public hearing), "the plans for LICH just never materialized." We can't jettison a hospital because plans never materialized. In spite of mismanagement LICH has remained a viable and busy hospital; in fact, last summer the elected officials were told that LICH had broken even in the previous quarter. LICH occupancy for 2012 is higher than the average of many other Brooklyn hospitals. Last October LICH was a crucial site during and after Hurricane Sandy when several hospitals had to shut down – including NYU, Bellevue and Coney Island Hospital.

Since January of this year SUNY Downstate has not been forthcoming or transparent in its dealings with LICH, the public and all of the stakeholders. SUNY has made claims that are not supported by facts; they have failed to do proper billing or enforce the billing agreement for LICH. We are at a crossroads: SUNY Downstate has withdrawn its closure plan but not its closure behavior. It is starving LICH in terms of personnel and house staff in violation of the TRO order by the NYS Supreme Court.

The leadership of Governor Cuomo is vitally important in ensuring a positive healthcare outcome for all Brooklyn residents. I believe that the closure of Long Island College Hospital and the sale of its property for development of luxury housing is not in the best interest of the public.

Jane McGroarty

Jane McGroarty AIA
140 Joralemon Street
Brooklyn, NY 11201
718-875-6324
718-222-1767 (f)
architect@jmcgroarty.net
Please Tell The Governor to Save LICH
Hello,

I am forwarding this BHA email to you to encourage you to contact Governor Cuomo to help to save LICH and to make certain that the voices of this community are heard!  Below you will find an already composed email link provided by the Brooklyn Heights Association which you only need to sign and send.  If you are so inclined, you can compose your own email or call the governor's office to let him know that we expect that at the very least, he is meeting with our local elected officials and making certain that the closing of a 150 year old institution is not reduced to a real estate land grab.

Please forward to your friends and neighbors-  time is running short to protect quality health care in our community. 

Thanks-  Peggy Ricciardi

Monday, June 10, 2013
Please Tell Governor Cuomo to ACT NOW to SAVE LICH!
Neighbors,
We are at a critical time in the life of Long Island College Hospital. Last week, SUNY Downstate announced its Sustainability Plan. Under the plan, Downstate will either close or sell LICH.
However, SUNY Downstate has failed to turn over the LICH financial records parties have requested. Moreover, SUNY Downstate has made representations about LICH finances that are simply not true. Without open books, potential suitors cannot evaluate LICH's economic viability -- and there is no assurance that the disposition of LICH will be a fair one. SUNY Downstate's actions have revived fears that its real goal is to sell the land to a real estate developer.
The Governor needs to take charge. So far, he has refused to meet with our local elected officials. We need to show Governor Cuomo that we expect him, as our elected representative, to act in the best interests of the western Brooklyn residential and business community.
Lean In by Speaking Out!
Write to: The Honorable Andrew M. Cuomo
Governor of New York State
NYS State Capitol Building
Albany, NY 12224

Call: (518) 474-8390
Email:  Use the link below today and next week and every week until this matter is resolved in the best interests of our community.
 For your convenience, the following message has been inserted in this email link to send to the Governor's office now. Just open, sign, and send:
Governor Cuomo,
As a constituent, I urge you to develop a plan to save Long Island College Hospital so that it can provide needed health care for the fast-growing residential and business communities of western Brooklyn.
As Governor, you must act to insure (i) that the process is transparent, (ii) that Downstate makes current audited LICH financial records available to all interested parties, and (iii) that a 150-year-old teaching hospital is not summarily closed without a full assessment of the community's needs by the NYS Department of Health.
55 Pierrepont Street, Box 17D Brooklyn, NY 11201 (718) 858-9193 info@thebha.org www.thebha.org
May 24, 2013
Brooklyn Heights Association Testimony to SUNY Downstate RE: Sustainability Plan
The Brooklyn Heights Association is a community association founded in 1910 serving the residents of Brooklyn Heights. We welcome the opportunity to voice our opinion regarding the impending Sustainability Plan, and do so from the perspective of Downtown Brooklyn and its adjacent brownstone communities.
A full service hospital in downtown Brooklyn is essential to the health needs of the residents and workers of our communities. Long Island College Hospital (LICH) has been a teaching hospital since 1858 and serves one of the fastest growing business and residential areas, with thousands of new families, in Brooklyn. Downtown Brooklyn is home to four public housing projects with over 13,400 residents. Seven colleges and universities educate 32,000 students here and there are 70,000 workers in Metro-Tech and Dumbo, along with thousands of lawyers, employees and citizens who work in or attend state and federal court. Nearby are bustling shopping and commercials area such as Fulton and Smith Streets, as well as the 17,000-seat Barclay's Center Arena. It is also important to note that no other precinct is responsible for more potential terrorist target sites than the 84th Precinct in Downtown Brooklyn.
We believe that LICH is a viable full service hospital and that SUNY Downstate is not the right operator for this institution. In a February 4, 2013 letter to our elected officials. SUNY President Carl McCall outlined the fiscal and management challenges facing SUNY Downstate. We think that SUNY Downstate has not been able to manage LICH properly in the context of its own mounting problems.
Although there appear to be no audited financial statements for 2011 and 2012 for LICH, the Concerned Physicians of LICH and the New York State Nurses Association have compiled data that indicate that LICH has a high occupancy rate and a very good payor mix (second in Kings County). Other metrics for the hospital are strong despite an extremely poor (and costly) billing performance by Continuum. We insist that SUNY Downstate provide credible financial information to the public regarding its own operations, as well as that of LICH, prior to any Sustainability Plan. It is foolish to plan for the future without knowledge of the past.
We are opposed to any plan that replaces LICH with a lesser institution – a free-standing Emergency Room or an outpatient clinic. Any one in healthcare will confirm that an emergency room without the back-up of strong medical and surgical departments is simply a "treat and release" operation. We submit that closing a hospital without serious consideration of all alternatives (as is prescribed by the New York State Department of Health) is unacceptable to the residents of the communities in Western Brooklyn who depend upon LICH.
We are convinced that there is strong community and political support to maintain LICH and we hope that relieving SUNY Downstate of the burden of operating LICH will be a big step in assisting SUNY Downstate to become sustainable in the future.
Letter from Jonjack Berall, M.D.
Governor Andrew Cuomo, Commissioner of Health Shah, and  President Williams SUNY-Downstate Medical Center
My name is Jonjack Berall.
I am a medical doctor and an Emergency Medicine specialist with a wide experience as Chief Administrator of Emergency Health Care systems in catastrophic situations, such as Warzones, Earthquakes, Hurricanes…
The CLOSING Long Island College Hospital as a full service, Acute care, Teaching Hospital is contrary to the stated Principles and Purposes of SUNY-Downstate Medical Center: That is, To train healthcare professionals and to best-use its LICH resources to provide the best of health care for the People of Brooklyn.
The CLOSING of Long Island College Hospital will CREATE an Immediate Emergency Medicine Meltdown in Brooklyn by drowning the Emergency Rooms of the three nearest hospitals that will sink under the weight of receiving the 60,000/ year LICH ER patients: the now overrun ERs at Brooklyn, Methodist and Lutheran Hospitals.
Maimonides ER, still reeling from Coney Island Hospital closing after Sandy, will also be negatively impacted. Patients from the "Sandy" area are still arriving at all the area ERs.
PARAMEDICS state: "Those three Emergency Rooms and all Brooklyn ERs are overrun now"
Brooklyn's Emergency Medical System is at risk of crashing. Adding the stress of closing the LICH ER will Sink the remaining hospital ER's.
It is a Big, Tough System to restart if it freezes…better by far to keep it running, and plan ahead for any changes. A sudden closure of a main hospital is not planning ahead.
Population of Brooklyn: 2.5 million Real People, The Immediately Affected PopulationIf LICH is closed is > 1.25 million Real People.
LIVES will be lost, unnecessarily.
Overcrowded ERs and Delayed ER treatment means poorer results for even non-immediately life threatening emergency situations.
Brooklyn Voices will be loud and will be heard. LICH is an active, Full Service Teaching Hospital as it has been for 150 years. LICH has an active ER, multiple critical specialties and Inpatient Services running at 90% capacity.
This Important Full Service Teaching Hospital, Its Patients and The Emergency Medical System for the People of Brooklyn should Not be Sacrificed to the $$ Games of billionaire Monopoly-players and their enabling real estate, banking and political cronies.
Respectfully,
Jonjack Berall, M.D., M.P.H., Lt. Cmdr(Ret)

CDC, Epidemic Intelligence Service, Chief Medical Officer, International Committee of the Red Cross Relief Operation, " Biafran War "; Post War Bangladesh, Consultant to the Prime Minister; Chief Medical Officer Emergency Relief Operation Homestead Florida, Hurricane Andrew ,Emergency Room Physician, Internist.
Resident of Brooklyn Heights, Brooklyn, N.Y.
(212) 614-1711
email: intubate123@gmail.com
www.intubationVL.com
www.jbmobilemd.com
Letter from Maria Pagano to SUNY/Downstate - 5/20/13
To the SUNY Downstate Trustees:
I am unable to join you for your town hall meeting tomorrow. I am, however, a strong supporter of a full service hospital for our area, namely, a reinstatement of LONG ISLAND COLLEGE HOSPITAL.
I am a conscientious stakeholder and neighborhood resident who does not accept a town hall meeting as anything short of a venting session.
In all good faith, a full series of public meetings and consultations with the various stakeholders of our surrounding communities are mandatory before determining the future of LICH. We are not interested in a decentralized medical system; we need a full service, world class medical facility for all of us.
While we have seen tremendous growth and demand for housing and education in our communities, we need the confidence of cutting edge medical care to serve the medical needs of our communities. It is your responsibility to respond to and respect the needs of our communities by reinstating this hospital that has stood for medical care here for more than 150 years.
Best,
Maria Pagano
Carroll Gardens Neighborhood Association
Letter from Dr, Melman to SUNY/Downstate - 5/20/13
Dear SUNY Downstate officials,
I am an Emergency Department physician at Long Island College Hospital.
As an individual and as a member of the broader group of of caregivers, community members and elected officials, I do not accept your town hall meeting as a replacement for required meaningful input and consultation with all stakeholders in deciding the future of LICH.
I/we do not accept that "healthcare services in the community around LICH" is a viable alternative to a full service hospital at LICH.
I/we demand LICH remain open as a full service hospital.
Best,
Saul Melman M.D
My Monday @ LICH---a hurrah for your nurses & aides
Dear Michelle Green,
Yesterday I had endoscopy and colonoscopy at LICH with Dr. Grosman. I only saw him once at his office before this, but I think he's wonderful---everything you want in a doctor: patient, kind, explains everything, just great.
But of course I also interacted with perhaps 6 staffers; the admitting associate (my paperwork was ready, waiting), the intake person (Miss Frances) in the gastro dept., the nurse who directed me to lockers and then did my IV, the nurse who took me in to the procedure and assisted there, and the nurses who took care of me in recovery and called my escort. (if one of these was an aide, no matter---wonderful anyway)
In the past, LICH did not have a great reputation. I mean distant past----I had a surgery there around 1973 and knew others who had as well. But if yesterday was representative of the care now offered at LICH, I wouldn't hesitate to go there again for something more serious.
Every single person was very caring and attentive and I'm not an easy patient. I talk too much, and question everything.
Miss Frances handled my concern about whether the procedure could be done because a chronic problem had occurred. When she told me the answer from a nurse, she assured me we were alone in the dressing room, but spoke with discretion (even more so when someone entered)
The IV nurse was very attentive, accepted info about my veins with great tolerance (and did her own thing !), asked if I was cold.
Everyone introduced themselves---the whole aura was very friendly and reassuring. In recovery after the procedures, I had terrible abdominal pain and kept up a steady stream of verbal kvetching ! But the nurses there were very patient, kept explaining the reason and how I could help, not to be embarrassed (I wasn't---things just hadn't moved along enough to push !).
No one wants to do these yukky tests. But it ended up that the prep was the worst and the procedures were no problem because of Dr. Grosman and the great supporting staff.
Thanks for being there. Hope a new administrator is found so we can all rest easier ! Sincerely, Susan Detrich
Letter from Robert Stone to Dr. Shah - April 8, 2013
April 8, 2013
23 State Street
Brooklyn, NY 11201-5512
Dr. Nirav Shah, M.D., MPH, Commissioner
New York State Department of Health
Corning Tower
Empire State Plaza,
Albany, NY 12237
Re:  Proposed Closing of Long Island College Hospital
Dear Dr. Shah:
My name is Robert Stone.  I reside in Brooklyn Heights and am the grandfather of and a principal caregiver for my 5-year old granddaughter, Samantha Williams.  Samantha suffers with cerebral palsy, hydrocephalus and epilepsy and has required numerous EMS transports to the LICH pediatric ER in the past three years.  On at least two occasions within the past year she experienced status seizures and was anoxic when the LICH EMT's arrived.  If the ambulance response had been slower she might not have survived.  On one of these occasions, upon arrival, it took two hours, all of the pediatric and many of the adult ER staff to stabilize her.  If the ambulance had had to travel from either of the two next closest hospitals, Brooklyn Hospital Center or NY Methodist, her death might have been the outcome.  Further, If LICH closes, the burden of treating its population will overwhelm the emergency facilities of the remaining centers.  Is this disputable?
When S.U.N.Y. Downstate "rescued" LICH from Continuum in 2011, the N.Y.S. Department of Health determined that the communities served by LICH:  Downtown, Red Hook, Cobble Hill and Brooklyn Heights, would be dangerously underserved if its closure were permitted.  But the issue of a dangerous vacuum of emergency services for these communities hasn't changed since 2011.
My family makes extensive use of physicians in the LICH faculty practices.  These doctors must have hospital admitting privileges and I fear that many of them will leave practice in this area, adding to the hardship generally.
This is an issue that your office must confront.  Thus far we haven't heard how our community's emergency as well as non-emergency medical needs would be met and I look forward to your addressing them as soon as possible.
Thank you for your attention.
                                                                                                Respectfully,
                                                                                                Robert Stone
718.624.1395 (H); 917.617.8718 (C)
Letter from NY Assemblyman Fred Thiele - 4/10/2013
Dear Ms. Semente:
I am writing in response to your recent email regarding the future of Long Island College Hospital (LICH) and SUNY Downstate Hospital. Thank you for taking the time to write and share your thoughts and concerns with me.
You may be interested to know that my first grandson was just recently born at LICH. My son, his wife and their son, are healthy and happy and had a wonderful delivery experience.
In case you are not aware, there is language in the Final 2013-2014 New York State Budget that requires the Chancellor of the State University of New York to draft a sustainability and viability plan for Downstate Hospital by June 1, 2013. The plan will outline actions to ensure its financial stability. I am fairly confident this plan will also include discussions about LICH.
Please rest assured that I will gladly take your views and experiences into account should I engage in further legislative discussions regarding the future of Long Island College Hospital. Please do not hesitate to contact me if I can be of further assistance to you concerning this or any other State matter.
Sincerely yours,
Fred W. Thiele, Jr.
Member of Assembly
Letter - April 5, 2013 from Stephanie Kim
Dear All:

Please forward this along...I'm sure I didn't include everyone. It would be a real loss to the community and to my family if LICH closes its doors. I am so indebted to the staff at LICH for saving my husband's life. As many of you know, Peter suffered a massive heart attack 2 years ago. He is alive today because we live 2-3 mins away by car to LICH and the doctors in the Cath Lab were able to swiftly and successfully insert a stent into his artery to open up the blood flow to his heart. I was told that had the blockage in his Left Anterior Descending Artery (This is one of the major arteries known to cause massive heart attacks.) had not been cleared within 10-20 minutes, he would not have survived.

Please call Governor Cuomo at the number seen below!

Thanks,
Stephanie
Orlando Rosario
261 91st Street
East Elmhurst, NY 11369
(917) 841-4812
Orlando.rosario@me.com

To Whom It May Concern:

My name is Orlando Rosario and I am a registered nurse working at the Emergency Department at one of Brooklyn's busiest hospitals, Maimonides Medical Center.  I am writing to you in support of keeping Long Island College Hospital (LICH) open.

Although our Emergency Department is always busy, after the damage caused by hurricane Sandy, our hospital has been overrun with patients.  Many of these are local residents that would usually come to our hospital, but many are people who have been displaced and would regularly seek treatment at either Coney Island Hospital or any other local medical facility, such as LICH.

These past months have been physically, psychologically and emotionally taxing.  In addition, the potential for mistakes and harm to patients and those caring for them, namely Registered Nurses and hospital staff, has also increased.  In our department's daily census of patients increased by approximately 150–200 patients per day.  It has been a trying situation for us all and we have made every effort to protect and care for our patients and ourselves.

It should be noted that while the number of patients entering our facility has increased, the space in which to treat them and number of available beds has not.  Inadequate number of stretchers, space, monitoring equipment and personnel are some of what we faced during these past months.  Patient care is impacted and suffers when you are forced to work under such conditions.   Patients are forced to wait longer for triage, treatment and diagnosis.  Doctors, nurses, staff and patients become disillusioned with the healthcare they provide or are receiving.  The aftermath of Sandy has not fully resolved and is still affecting our hospital and our ability to continue to function at this level.   The looming closure of LICH is alarming to me as a healthcare professional and even more so to the community that they presently service.

I ask that you consider my plea to keep LICH open.   No one gains from this closure. The neighborhood loses a major healthcare facility, healthcare workers lose their employment and join the ever-increasing ranks of the unemployed, and most importantly people's lives are put at risk when an emergency occurs.  Consider the additional minutes that it will take to transport a critically ill patient to the nearest emergency room, and the potential for harm to that patient, when you make your decision.

Thank you for taking the time to consider my plea.

Yours truly,

Orlando Rosario, RN

To whom it may concern:

New York Methodist Hospital (NYMH) prior to the storm Sandy averaged a daily census of 90 percent, since then we have surpassed that with the closure of Coney Island Hospital.   Coney Island Hospital is still not fully operational as I am sure you are aware. This closure alone has been logistically stretching NYMH's ER close to its limits. The closure of Long Island College Hospital (LICH) will impact all of Brooklyn's hospitals. It will mean longer wait times for treatment to the detriment of Brooklyn's residents whom we serve.

Please reconsider the closure of LICH. Investigate the impact it will have on the surrounding communities, as well as, the hardship to the families of the patients who are a vital part of their recuperation.

Thank you in advance for listening.

Sincerely,

JoAnne Finn, RN
ER Nurse, New York Methodist Hospital

To Whom It May Concern:

My name is John Pearson and I am a Registered Nurse at Kings County Hospital. For the past two years I have worked on the night shift in the Emergency Room and I speak for myself, and for my fellow colleagues, when I say that King's County Hospital cannot stand for Long Island College Hospital (LICH) to close. 

The following is a breakdown of a typical nights' numbers in Kings County ER - January 14, 2013, to be specific: 

Admitted patients holding in E.D. when I left at 8 that morning: 75
Number of nurses staffing the floor in the main ER (the largest section of the department) from 8pm-12am: 5
Number of patients in that area at 10pm: 80+
California's nurse:patient ratio for ERs: 1:4

Number of nurses in our critical care/trauma bay from 8pm-8:30am: 3
Bed capacity of CCT: 8
Number of patients in that area at 10pm: 14
California's nurse:patient ratio for Critical Care ER: 1:2
For trauma ER: 1:1

The understaffing/high census problem has been getting progressively worse since the summer with little letup. The past two months have been especially terrible for us. As you can imagine, this has resulted in nurses not getting lunch breaks, unable to document patient care, and unable to give ordered medications. At times patients are lined up three deep in the hallways, or are placed outside the ED in the corridor. Patients who require cardiac monitors and patients admitted to the ICUs are on beds in the hallways without monitors (there aren't enough to go around).

My assignment that January night was similar to many of my coworkers': I covered an entire "quad" by myself all night (a quad is an area intended to be covered by two nurses, with spots for roughly 25 patients (about one third of those are hallway spots). I was unable to give dozens of ordered medications during my shift. I had multiple patients requiring cardiac monitoring and only one working monitor. At one point, two of my patients were ICU patients and I had to focus all of my attention on them and ignore the others for greater than an hour; by the end of my shift I didn't have time to document anything except for medications that I gave.

To be clear, this is only one night in a series of months that illustrates the pattern of overwhelmed surge capacity and an understaffed department in Kings County. 

It is clear to anyone working in hospitals across Brooklyn, and in particular to nurses at Kings County, that closing LICH would stress an already dangerously overcrowded and understaffed public healthcare system.  SUNY Downstate and the Department of Health are clearly not invested in patient care, or the borough of Brooklyn, if they deem it feasible, economic or otherwise, to close LICH in wake of what nurses all across the city recognize as a healthcare crisis.

LICH cannot close; patients will not survive if it does.   

Thanks,

John Pearson

Letter from "Skipp" Roseboro - March 26, 2013

Please pass this message on.
                                                                 
DESTROYING OUR HEALTHCARE SYSTEM

What we need to understand is that this is more than just the closing of Interfaith hospital - this is more than just about the closing of Long Island College hospital. This is about saving our Hospital Healthcare System.  With a city of any size, you put municipal systems in place that protect it and allow it to both survive and to thrive. Our hospital system protects you, those you care about and the City itself.  As you allow different parts of the system to decay, and to be taken away, we wind up with a situation that can cause the whole Healthcare System to collapse - That's what we need to recognize is happening, and that's what we need to fight.

In the last decade, New York City has lost 15 hospitals and 6 more may be on the chopping block.*

Your healthcare system is dying!
It's dying of neglect.
It's dying of mismanagement.
It's dying of greed.

Shouldn't these viability killers be addressed before closing more hospitals?

Governor Cuomo, you're closing our hospitals because you say the cost is not sustainable; have you calculated how much more economic cost and human loss might be associated with each closing?

Mayor Bloomberg, one of the highest priority issues that the people of  New York have entrusted unto you is Public Safety which includes protection of our Healthcare System. Why aren't you fighting to save our hospitals?  Why, are you so vocal on so many lesser issues but so silent on this far more important one?

While how much soda I ingest may harm or kill me in decades, having to pass one or two closed hospitals during a heart attach may kill me tonight. While your limiting my smoking may extend my life for years, the lack of a near-by hospital may cost me my life this afternoon. While extra City trees and Green Roofs are pretty and of some value, a pregnant mother in distress and her unborn child may never survive to see them if she is forced to travel 20 to 50 extra blocks in search of emergency care.

A legacy built on soda, cigarettes and trees won't overshadow the harm and deaths caused by allowing this continued destruction of our hospital system.

Mayor Bloomberg, Governor Cuomo, we can survive large sodas and a host of other cute initiatives much better than we can the loss of even one more hospital – GET YOUR PRIORITIES STRAIGHT!!

"Skipp" Roseboro         
Community advocate

*  http://www.bkbureau.org/hospitals-face-pressure-six-brooklyn-could-close#.UU7rPDTD9jo

"Letter from Joan L. Millman, Member of Assembly" - March 21, 2013

Dear Supporters of Long Island College Hospital,

Thank you all for your work to help keep LICH open. The good news is that all of us together have successfully held the SUNY Board of Trustees accountable for violating the open meetings law and not honestly accounting for their plans for LICH and the community it serves.

Last week a Brooklyn Supreme Court judge upheld a complaint filed by SEIU 1199 and the New York State Nurses Association.

Then the SUNY Board of Trustees decided to hold a rushed second meeting... in Westchester, 40 miles from Brooklyn. The bad news is at that meeting the Board of Trustees again voted to close LICH.

I hope that everyone of the 5,952 people who signed this petition will take a few minutes to contact Governor Andrew Cuomo and State Commissioner of Health, Dr. Nirav Shah.

The Governor's office can be contacted by calling (518) 474-8390 and then pressing "2" - letters should also be sent to:

The Honorable Andrew M. Cuomo
Governor of New York State
NYS State Capitol Building
Albany, NY 12224

Dr. Shah can be contacted at nrs02@health.state.ny.us or (518) 474-2011.

When one institution closes its doors patients must go elsewhere. In recent years, Downtown Brooklyn has seen a surge in new residents. Closing LICH would harm the neighborhoods it serves and pass along a patient burden to an already strained healthcare network. This will result in longer ambulance response times, longer wait times and less quality healthcare.

There must be an alternative that balances the books at SUNY Downstate and keeps LICH open. Thank you again!

Sincerely,

Joan L. Millman, Member of Assemly

Letter from Brooklyn Electeds to Gov. Cuomo - March, 11, 2013

March 11, 2013
The Honorable Andrew M. Cuomo
Governor of New York State
The Capitol
Albany, NY 12224
Dear Governor Cuomo:
As the state officials representing Long Island College Hospital (LICH), we write regarding the
threatened closure of the hospital and to request that the Empire State Development Corporation
(ESDC) undertake an economic impact study of the closure.
There is consistent and compelling evidence of health care needs that will go unmet in Brooklyn
if LICH closes. While our immediate concern is the effect of the closure on health care in
Brooklyn and beyond, consideration must be given to the broad economic impact of
the closure of this important institution. Therefore, we request that the ESDC conduct a study of
the economic impact of closing LICH.
In addition, we ask that you meet with us to discuss this and broader issues regarding the
potential closure of LICH before any determination is made. We look forward to continuing to
work with you to reach a resolution that works for our community, Brooklyn, and the entire
state.

If you have any questions, please call Assemblymember Millman at 718-246-4889, Senator
Squadron at 212-298-5565 or Senator Velmanette Montgomery at 718-643-6140.

Sincerely,
Joan Millman
State Assemblymember

Velmanette Montgomery
State Senator

Daniel Squadron
State Senator

Cc: H Carl McCall, Chairman, State University of New York Board of Trustees
James Introne, Deputy Secretary for Health

Letter to website from "A senior physician at LICH and longtime Brooklyn Heights resident" - March 8, 2013
What SUNY/Downstate is doing constitutes patricide - to LICH - attempting to unjustly terminate its formerly parent institution which founded the Medical School.
This is an incredible act of expediency designed only for short-term results, which will bring about a dangerous lack of treatment options for all of downtown Brooklyn, including children as well as mature patients with things such as sudden stroke, heart attack and trauma.
Shocking, unacceptable and unbelievable - a nightmare come true if SUNY has their way!
Nothing corrupts like too much power.
A senior physician at LICH

Letter 3-7-2013
State Senator Daniel Squadron said, "We've been making our voices heard loud and clear: LICH is vital to Brooklyn. SUNY's plan essentially turns a $63 million state grant into a subsidy for a massive real estate deal -- and it should be no surprise that the community and state feel looted. We're now pushing for critical life support and urging DOH to work with us to save LICH."
Letter to Gov.Cuomo from Brooklyn Heights Association
Dear Governor Cuomo:
As Governor, you are frequently called upon to make important -- and, sometimes, life-saving --
decisions. With SUNY's ill-considered vote to close Long Island College Hospital ("LICH") in a flourishing area of Brooklyn, such a decision is now before you. As your constituents and on behalf of many who have not had a voice, we ask that you reexamine the issues and carefully consider the alternatives to insure that the health of our community is not compromised.
We submit that the decision you must make as Governor is different from the one that was before
SUNY's Board. For you, it is not simply a question of whether closing LICH will reduce Downstate's
self-inflicted financial woes. You must decide whether closing LICH is in the best interests of your
constituents in the Downtown Brooklyn community. You must find a solution that insures that residents, students, workers, and visitors in Downtown Brooklyn have access to adequate medical care, including emergency medical treatment......
Please clik here to read the entire letter to Governor Cuomo.
LETTER FROM Jon Berall, M.D., M.P.H., Lt. Cmdr(Ret)
CDC, Epidemic Intelligence Service,
Chief Medical Officer, International Committee of the Red Cross
Relief Operation,
" Biafran War ";
Post War Bangladesh, Consultant to the Prime Minister;
Chief Medical Officer Emergency Relief Operation Homestead Florida,
Hurricane Andrew
Emergency Room Physician, Internist.
Resident of Brooklyn Heights, Brooklyn, N.Y.
Letter written to Commissioner of Health Dr. Nariv Shah.


Hello Commissioner, Dr. Nirav Shah
23 February, 2013

The closing of Long Island College Hospital will Create an immediate
Emergency Medicine catastrophe in Brooklyn by drowning the Emergency
Rooms of the three nearest hospitals that will receive the 60,000 LICH
ER patients;
Brooklyn Hospital ( 60,000/ year), Methodist H.( 80,000/year) and
Lutheran H.(50,000/year).
Those three Emergency Rooms are overrun now.
Ambulance times to reach patients and with patients to reach ERs will increase.

Coney Island H. closed after StormSandy and the Maimonides H. ER,
"usually smooth and efficient is now a zoo"( paramedics).
Patients from the Coney Island H. region are arriving at all the area ERs.
Big Emergency System about to crash; Bad time to add stress of closing
an active ER.
BigTough System to restart if it freezes.,,best by far to keep it running.
Population of Brooklyn, N.Y.: 2.5 million.

" Overflow into Manhattan. But…Nowhere to go…" ( paramedics )

Lives will be lost, unnecessarily.
Brooklyn Voices will be raised. Perhaps others.

This Important Full Service Hospital and It's Patients and the
Emergency Medical System for the People of Brooklyn should not be
sacrificed to the $$ games of corrupt medical administrators and their
real estate and enabling cronies.

Today LICH is an active, Full Service Hospital as it has been for 135 years.
Today LICH has an active ER, multiple critical specialties and
Inpatient Services running at 90% capacity.


Respectfully,

Jon Berall, M.D., M.P.H., Lt. Cmdr(Ret)
CDC, Epidemic Intelligence Service,
Chief Medical Officer, International Committee of the Red Cross
Relief Operation,
" Biafran War ";
Post War Bangladesh, Consultant to the Prime Minister;
Chief Medical Officer Emergency Relief Operation Homestead Florida,
Hurricane Andrew
Emergency Room Physician, Internist.
Resident of Brooklyn Heights, Brooklyn, N.Y.
(212) 614-1711
email: intubate123@gmail.com
www.intubate123.com
www.jbmobilemd.com
Letter to Gov. Cuomo from Dr. Judith Weinstock
Letter to Governor Cuomo

Although the closing of Long Island College Hospital might seem like a smart move in the short run, it will be a disaster for the broader neighborhood in the long run. Included in this area are Brooklyn Heights, Red Hook, Cobble Hill, Carroll Gardens and Dumbo. Our neighborhood is symbiotically involved with the hospital in so many ways. Let me elucidate.
Private physicians: Long Island College Hospital Voluntary physicians number many hundreds. Most of us have offices near the hospital. Many of us live as well as work near the hospital. If we get privileges elsewhere, we would have to drive to these other institutions to make rounds and then get back to our offices here in Brooklyn Heights and Cobble Hill. Each hospital is like a country with its own customs and culture. It is not a small step to change hospital affiliation. Some of us will probably not feel it worth the while and will retire and others of us will eventually move our offices. Younger doctors will start opening offices near whatever hospitals they are associated with, not in our area. By five years from now, few medical offices will remain in the area that was so doctor-rich and it will be difficult for auxiliary services like radiologic facilities and physical therapy services to survive in the area without referring physicians.

Hospital workers: Highly trained workers like nurses and radiology techs will have problems getting new jobs, but will eventually find work. The other hospital workers, many of whom have no more than a high school education and spent their whole working lives at LICH, will probably not be finding work soon. For many of them the hospital was like an extended family. They will probably suffer long-term unemployment.

Neighborhood restaurants and deli's: Takeout is a big business on all shifts at LICH. Most eateries in the neighborhood deliver to the hospital on a regular basis. Restaurants have a low profit margin and the loss of LICH in the neighborhood may well put some of them out of business.

Maternity patients: We had around 2000 deliveries last year at LICH. Methodist Hospital is a lovely place to deliver, but the Dept. of OBGYN there is already busting at the seams at their Labor-and-Delivery room. Ditto, ditto Maimonides. The other hospitals in Brooklyn do not offer the amenities that most middle-class patients want at the time of delivery. It is not appealing to people to go into Manhattan while in labor, but with the crowding in Brooklyn, that is where most of them will go.

Emergency room patients: There were 58,000 visits to our ER last year. Ambulances are not allowed to cross into other boroughs, so emergency rooms in Brooklyn are going to be dangerously full and if you have chest pains while in Brooklyn Heights, I would worry. You will be a long way from a Brooklyn hospital emergency room.

House Staff: Our residents (doctors-in-training) work very hard. Many of them have young children. With the closing of the hospital, many of them will be looking for positions elsewhere. Third- and fourth-year positions are difficult to find and many residents will undoubtedly be forced to move far from their families to complete their training.

It is rumored that a for-profit hospital near Downstate is in the works. I can assure you that if anyone in one of the neighborhoods mentioned above needs hospitalization, they will be a lot more likely to go to NYU or New York Presbyterian than to the area near Downstate. It's a lot easier to scoot up the FDR Drive than to navigate the interior of Brooklyn. There is a lot of anger at LICH and I don't see many physicians desiring to work for SUNY in the future or anxious to bring patients to any institution associated with it. And, Governor, although I am a long-time Democrat, I will not be voting for you anytime soon. This will be true for many of us in this neighborhood who view your actions as a kick in the teeth. I am glad you will be solving SUNY's shortfall in funds, but you will be bringing permanent grief and a deeper recession to a large part of Brooklyn.

Dr. Judith Weinstock, MD, FACOG
Dept. of Ob/Gyn, Long Island College Hospital
Open letter from LICH nurses to physicians - Feb. 2013
Dear LICH Physicians,
You know us. We've worked side by side with you for decades. You know the kind of work that we do and the quality of care that we provide. And you know that LICH does not deserve to be closed. So we're asking you to continue to work side by side with us and stay the course and encourage your patients to stay with LICH. We are still open for their care.
We've fought for LICH's life before & we are fighting again. LICH nurses and staff are not running scared. We are not leaving. We are coming to work everyday and providing the same high quality of care that LICH nurses and staff are known for.
There is no expiration date for LICH. The Department of Health has not rendered any decision on SUNY's proposal. Therefore
there is no closing date
. While some of us may be getting our paperwork in order for a possible worst case scenario,
We Are Not Resigning
. We will not give Williams the satisfaction of shutting LICH down due to any lack of staff.
We're asking you to help LICH by not giving Williams a reason to shut it down due to lack of patients or physicians.
It is incomprehensible that a hospital of LICH's caliber with so many top-notch physicians and specialties, serving over 100,000 patients per year, would be closed solely to pay for years worth of SUNY's own financial mismanagement, much of which occurred even before the merge with LICH.
The community is outraged that SUNY is willing to sacrifice community residents' healthcare, hospital access, and possibly their lives just to have LICH become SUNY's cash-cow. The amount of support they and the elected officials are giving to the fight to keep LICH alive is astounding. They and LICH nurses and employees are committed to fighting for LICH with every avenue available to us.
As you know, on January 24 in below freezing weather, nurses and employees canvassed Atlantic Ave leafletting the community, and held a rally with press conference outside of Trader Joes, to inform the community of the crisis at LICH. The next day, hundreds of LICH employees, staff, community leaders, elected officials, and some LICH doctors held a protest and press conference in front of the hospital. On January 31, LICH nurses and employees joined Interfaith's in a rally outside the Governor's Manhattan office to protest management plans for both hospitals.
On February 2, LICH nurses were guest speakers at the National Action Network Saturday Rally, broadcasted on am radio and webcast online and they spoke about the crisis at LICH. On February 6, NYSNA officials and a LICH nurse met with the State Comptroller's office to discuss their audit of Downstate. To our shock we were told that the office had been asking Downstate for a business plan for LICH every week from the day they started the audit until the day it was released, but "Downstate never submitted a business plan for LICH one because they never had one".
On February 7, NYSNA chartered buses to make trips back and forth to Manhattan throughout the day from 7am till 6pm, taking emloyees to observe the morning public session of SUNY Trustees' special meeting on LICH and the afternoon public hearing where many of us spoke in support of LICH and corrected the lies that SUNY was telling the media. We held rallies and press conferences before and after the sessions and did the same again the next day when SUNY Trustees staged their vote to ask for DOH approval to close LICH.
A week later, NYSNA and our nurses organized the very successful February 14th Kane St Synangogue Community Forum for LICH, with particpation by employees, doctors, community leaders, elected officials, patients, and representatives of our vulnerable, under-served populations. On February 16th, nurses, doctors, and employees, piled into 4 chartered buses in front of LICH & travelled to Albany to rally for Brooklyn healthcare, network for support of LICH and invite the DOH to come visit LICH before making any decisions on LICH (Dr Mendoza can give you more details.)
On February 19, LICH nurses, doctors and employees went to the Supreme Court to stop SUNY from closing LICH. On February 20, the Court granted a temporary restraining order against SUNY. There can be no further discussion by SUNY with the DOH about closing LICH and no attempts by Downstate to start shutting down services until after both sides are heard in Court on March 7 and the judge rules further.
We are exhausted but encouraged. All we ask of you is to keep booking your patient appointments. Schedule your patient surgeries. If your patient needs to be admitted, admit them to LICH. We are here to care for them. Let them know that LICH is still open for business. And we are trying hard to keep it that way.
We're doing everything we can, but we need your help. Stay with LICH and continue to encourage your patients to stay with LICH until a final decision is made one way or the other by the DOH and Governor. As Yogi said, "The game's not over till it's over"
In Solidarity,
The Registered Nurses of LICH
Represented by the NYSNA LICH Executive Committee:
Herdley Hill, RN (9N)
Loretto Gasman,RN (OR)
Cheryl Powell, RN (CM)
Joanie Rowley, RN (ICU)
Julie Semente, RN (ICU)
Lukmon Kalejaiye, RN (St51)
Sonia Taylor, RN (10N)
Diane Mapp, RN (CM)
Daniela ,RN (School NP)
Hi Everyone,
We are working together to form a true coalition: Our local elected officials, LICH staff,most notably Dr. Toomas Sorra and Julie Semente, RN, along with the residents and businesses of our surrounding neighborhoods have focused the much needed media attention on the proposed closing of Long Island College Hospital.
We have a lot yet to do, and we ask for your support. Please find below some information as well as updates from Dr. Sorra and Ms. Julie Semente, LICH RN on the current status of LICH.
Yes, every phone call to the Governor's office makes a difference! Take a minute and leave your comments.
It's time that all our communities (political, medical, religious, residential and business) work together- who knows what kind of "more perfect" model for local health care we can create!
Read on and act!
Best,
Maria Pagano
President
Carroll Gardens Neighborhood Association

LETTER FROM DR. SAUL MELMAN TO SEN. SQUADRON
Dear Mr. Squadron,
I've worked as an Emergency Medicine attending at LICH for the past 10 years.
The ideas you passionately put forth last Thursday at the SUNY NYC meeting were compelling.
There is a committed group of 25 Emergency Room doctors at LICH who want to continue to serve this community.
I think it's crucial to hear a much louder - informed - voice from people living in the Brooklyn Heights/Cobble Hill/Carrol Gardens/Boreum Hill fighting against the potential closure of the hospital directed towards Albany.
From years of experience as an ER physician, I can assure you when the true emergency occurs and the patient and/or family "can't believe that it's actually happening to them" - when the minutes count and LICH is the closest 911 receiving hospital - we save lives. Needlesstosay, this situation occurs even if patient has their doctor in Manhattan. In these moments of crisis people suddenly appreciate the proximity of our presence and the services we provide.
In the weeks going forward, if you want information regarding our heart attack or stroke programs (which are the at the forefront of all Brooklyn hospitals) or fact/figures that might encourage people to fight for their community hospital ie: our short wait times compared to other nearby ER's etc... please feel free to ask.
Thank you for your efforts.
Best,
Saul Melman M.D.
Clinical Assistant Professor
SUNY Downstate at Long Island College Hospital
LETTER FROM SCOTT ANDERSEN - FEB 2013
Dear Trustees:
When I heard the news that SUNY Downstate was considering closing Long Island College Hospital I was shocked, and then I started to cry. My name is Scott Andresen and I was a patient at LICH in 2010 when I suffered a catastrophic spinal injury when struck by a car. In very basic terms I credit my ability to walk today to the dedication of the doctors, nurses and staff. I entered the hospital unable to feel or move my body from the waist down. In those first moments Saul Melman, the ER doctor who speaks to you now, told me 'I will do everything I can to make sure you get the best care possible.'
I spent three weeks at LICH and the desire to give me 'the best care possible' was a personal mantra shared by the entire staff. From Doctor Miller and the Neurosurgery members who spent 10 hours in surgery, to Nurse Nancy and the ICU team who cared and counseled me at my most vulnerable, and the myriad of doctors, techs, and staff who worked tirelessly for my betterment.
I hope you will choose to put the long-term needs of Brooklyn ahead of a short-term financial gain. The hospital, and this staff, is the type of community anchor that once gone will be lost for good. As NYC knows all too well, those resources that can respond in times of crisis are our most valuable assets.
In closing I think it is important for you to know how I originally came to LICH. When I found myself in the back of the ambulance, just minutes after the accident, there is always the decision where to take the patient. In a moment of clarity I asked the FDNY EMTs 'Where would you take your child in a time of crisis?' In unison they replied 'Long Island College Hospital'. I beg you, please do not let this institution disappear.

Thank you,
Scott Andresen

Letter from Elliot C Green, RN
To Whom It May Concern,
I have attended most, if not all of the community hearings/discussions on LICH's fate. I am solidly behind the opposition to Continuum Health Partners mismanagement of LICH and plans for severing ties with this organization that has shown little regard for the healthcare needs of the community and LICH's history of service and potential to better meet those needs. I am pleased to learn the DOH's rejection of CHP proposal and look forward to the possibilities of a new beginning for this venerable, albeit battered institution.
My purpose for writing parallel with my words of support for the LICH Medical Staff and the institution on the whole, is that throughout this process I've not heard a single mention of the nursing school. It is as if it were nonexistent or an entirely separate and isolated entity rather than a part of LICH sharing the same demoralizing hardships and threats under CHP mismanagement. I was a member of the last graduating class of LICHSON. The 124th of such! Throughout my schooling our class was displaced by the closure and sale of the Court St building after the first year. In the third semester we were 'homeless' having our lectures in the conference rooms in the main building (where not more than once our lectures were delayed, cancelled or curtailed due to scheduling conflicts) In fourth semester we finally seemed to have our own designated space in the Polhemus building, which CHP planned(s) to sell off. However, in the medical staff's written submission to the state no such mention the nursing school was made with regards to the building or institution on the whole.
The oft-mentioned disparity of support and resources between the Manhattan based facilities and LICH is clearly evident between Beth Israel Nursing School and LICHSON. How much more apparent can it be to consider that Beth Israel School of Nursing has the assets to provide for an Artist in Residence, while when we were in the Court Street building we at times had no heat and when it snowed no one came by to shovel the entranceway. Not to neglect mention that throughout we lacked most of the basic technologic teaching/learning tools standard in most schools, most assuredly at BI. Preposterous as these small examples are, they are discomforts and inconveniences, trivial, compared to the trials of our clinical rotations where we experienced the same relative (and absolute) paucity of resources and supplies highlighted in LICH Medical Staff's opposition to CHP. I routinely had to go from floor to floor scavenging for an incentive spirometer for a post surgical patient, bargaining for a diaper for an incontinent patient, or begging for a blanket (even an extra sheet) for a cold patient.
A shortage of Registered Nurses will emerge in the coming years. As the community can ill afford to lose its obstetrics and pediatric services nor can it afford one less nursing school to create and mold the professionals who will eventually staff these units. My class was the most recent of a long line of graduates of LICHSON. As a class we had a passage rate on the licensing exam (NCLEX) far exceeding the national average. This is due to the sheer guts and commitment of an often weary and frayed faculty led by Asst. Dean Mary Gonzalez to make good nurses despite all of the of the adversity and deprivation unfelt by the students of our well fed and provided for 'sister' school.
As a community member, a former patient whose life was saved by the close proximity of LICH and care I received, as a student where I was provided the opportunity to learn to care for patients such as I had been, and finally as a hopeful future staff nurse on 9 North, I whole heartedly support the LICH medical staff and any alternative plan for stabilization and long term growth of LICH rather than the gradual dismantling and selling of the facility implicit in Continuum Health Partners chronic ill regard and designs. Please allow me, the graduates past present and future, the faculty and staff of LICHSON to be included in future dialogue and part of your plan for saving Long Island College Hospital.
Elliot C Green, RN
Please be aware that this is my own personal statement. I am not acting as an official or De facto representative of LICHSON

Letter to Karen Johnson from Linda Blyer
Dear Karen,
I'm sure you are aware that Continuum Health Partners has been trying to eliminate some of the services at Long Island College Hospital. It seems that their long term goal is to ultimately close the hospital.
The increased population in downtown Brooklyn, and the crowded conditions in most New York hospitals make it more important than ever to increase or maintain health, services rather than eliminate them. Even though the Health Department has denied permission for Continuum to close some of the services at LICH, Continnum will most likely continue on this path and elected officials need to monitor the situation closely.
In addition to the loss of health care, in this day of economic instability, hundreds of jobs would also be lost, further impacting on the businesses and stability of downtown Brooklyn. Please help find a plan to keep the current hospital services intact now, and for years to come.
Linda Blyer
Cobble Hill
Letter from Cheryl Powell, R.N.
November 10, 2008
Went to the meeting at Boro Hall this evening. There were many testimonies in favor of preserving LICH as a community hospital. It seems as though the elected officials GET IT, Absent was the Continuum and any representative from the DOH. It was mentioned how shameful it was that neither organization was present to hear the sentiments of the community and LICH family.

Caroline Johnson, RN from the NICU spoke very well and I think was the most heart felt testimony of the evening. She spoke about the exodus of our great NICU and Peds Docs. Depletion of services. Diversions from other hospitals to LICH. Care at our institution from Life to Death. The disrespect by Continuum .

Some folks cried, some voices quivered as they spoke, some were angry and others confused.

Amongst the speakers were Doctors, Patients, Nurses, members of community board 6, and our congressmen. Joan Millman, Marty Markowitz, Hakeem Jeffries, Letitia James, and others. They urged us to continue to write letters to the Governor on this issue.

The pulse of the courtroom was intense. All of us there for the same purpose to save LICH, but not one with a clue as to how the pendulum will swing.

So we wait.

Cheryl Powell, RN (case management dept).
Letter from Peeter Jakobson, M.D.
Dear Mr Cline,
As a former intern at LICH it is with great pleasure that I read your letter of November 17, 2008 to Mr Stanzione the interim CEO of LICH.
If nothing else can be learned from the financial meltdown of the past few months, one thing that has become very clear is that the large corporations and their CEO's are very very fallible. Continuum Health Partners and its CEO had failed financial policies, made undefendable statements to the public, wouldn't meet with the medical staff to discuss financial options and as a result would have caused immeasureable harm to the community surrounding LICH if left to their own devices.
I believe it is time to phase out Continuum Health Partners and return LICH back to the community. This community truly cares about LICH, which is after all more than just a business, it is a Hospital, and all that such an entity means to the well being of the families of Brooklyn.
Best Regards,
Peeter Jakobson, MD
Letter from Rosemarie Farrell, RN
CONGRATULATIONS!!!!!!!
Now let's continue to stay UNITED.... do NOT let individual egos stand in the way of a HEALTHY,PRODUCTIVE, PREMIERE medical center ....LICH as it always was !!!!!
It has been my experience, as a LICH family member,the ONE hospital I have ALWAYS been impressed by has been HAS (Hospital for Special Surgery). Perhaps we can learn some lessons from them ... my son has been a patient there over the past 21 years ..... the philosophy there (and it hasn't changed under any administration) starts from the top (CEO - we've met him in the elevator and he spoke with my son and I as if he knew us ) all the way down to the parking lot attendants (whom I know very well). ...THAT'S how LICH used to work . Just a thought !

Thank you for your efforts and commitment ..............
Again anything I can do to help, please let me know.
Rosemarie F.Farrell ,RN, BS
Letter from Colleen Giunta
November 10th, 2008
Dear Elected Officials,
My name is Colleen Giunta, I have lived in Carroll Gardens for the last 34 years and my husband for 50 years. We have raised our 4 children here and loved being a part of Carroll Gardens (Red Hook). L.I.C.H. has been a vital part of our lives, especially since one of my sons suffered from asthma, and at one time spent 5 days in intensive care at L.I.C.H., aside from many visits to the ER with 4 very active children and a husband who is a firefighter. Between all of us we have a total of 10 doctors at L.I.C.H. Need I say more as to the importance of this hospital to our family?
I volunteered to help in any capacity to keep this hospital alive. Please do the same for all the thousands of families this will affect. I have been working for the good of our neighborhood for over 20 years. Along with Connie Gibbons, Buddy Scotto and a few other neighbors we established the First Place Block Association later became Tri-Block Association in order include additional blocks and now CGNA to expand even further. I have worked diligently on many issues and projects to help and improve our neighborhood over the course of these 20 years, but this issue I feel is the most important and crucial issue of all, that is my opinion.
We cannot allow Continuum to swallow up the hospital and its real estate, only to divert these monies to other facilities, it is beyond comprehension, how they are getting away with this and how the Department of Health has failed us yet again. It appears that the last thing the Health Department is worrying about is the health and well being of all the thousands of people who would be affected by the closing of L.I.C.H. and its clinics.
It brings back to mind in 1996-1997, when the concern of a cancer cluster was discovered and was being investigated it took over a year before the Health Department even considered sitting down with the hospital and it's committees. Until our elected officials put the pressure on them, they were no where to be found. Then when they finally come to the table in 1998, to discuss the issue and show us their statistics, the stats were so outdated they were of no use to anyone. They dated back to 1990 what kind of a Health Department is NYC running here, and they weren't even embarrassed. In all my experiences getting involved with the NYC Health Dept was like running into a brick wall.
How dare they, not send a representative to be apart of such a major health crisis. This Department should be investigated right along with Continuum.
I say we have to scream a little louder and reach a little further. Where are the big developers, why haven't they come out on such a big issue, shouldn't they be concerned since they plan on bringing tens of thousands of people into this area. How does this sound as advertisement, come to a neighborhood that no longer has a hospital, or come sit in an arena and should a crisis arise don't worry we'll get you to an over crowded hospital in another neighborhood or another borough.
Please continue to help us and thank you for all the support you have given us thus far, I will, remember who you are come election day. I am known to be a squeaky wheel although some people refer to me as a thorn in their side I prefer squeaky wheel, so if there is anything I can do to help, let me know.
Sincere thanks,
Colleen Giunta
58 1st Place
Brooklyn, New York 11231
Letter from Lynn Bell
I am one of the hundreds of Brooklyn residents & taxpayers who are the patients of LICH - who not only depend on LICH for the VITAL services it provides us, but also the vast network of doctors connected with LICH located in the surrounding community. For years, our use of LICH services has helped sustain & build up LICH.
Continuum's slow destruction of LICH is an outrage & a crime against us the patients - especially, as alleged, how finances available & earmarked to run LICH have apparently been mismanaged, squandered or just plain given away to finance Continuum's Manhattan hospitals!
Now, by shutting down departments such as dental, Continuum is jeopardizing our health care - forcing LICH patients to split up their medical treatment among different hospitals. For the many LICH dental patients whose medical conditions require dental care in a hospital setting (including myself) - this means that, should medical complications arise at a new dental location, we risk getting treatment from doctors unfamiliar with our medical histories, rather than our own LICH-affiliated doctors.
Continuum's layoffs of LICH staff poses another threat to our health care - I and the other patients have grave concerns for the effect that staff shortages will have on the quality of care in remaining departments, as well as the cleanliness of the hospital.
Deterioration of conditions guarantees that more patients will leave, especially those who can afford to go elsewhere, further straining the hospital finances, & all but guaranteeing the eventual shutdown of the entire hospital.
We need our elected representatives to step up NOW to save our healthcare! The LICH financial situation needs to be thoroughly investigated & it must be known without a doubt where the LICH-earmarked finances have gone! Should the LICH-earmarked finances have been used for anything other than what they were intended, ALL steps must be taken to recover the full amount. The LICH doctors' alternative plan needs to be implemented & given a chance to succeed.
We are all now seeing the damage done to the economy by previously well-respected financial institutions - because no action was taken as the problem was developing. Here on the sidelines in Brooklyn, our healthcare faces a similar fate.
PLEASE don't ALLOW Continuum to destroy Brooklyn healthcare!
Sincerely,
Lynn Bell
Letter from Maria
Maria Pagano 436 Sackett St Brooklyn NY 11231
Rhea436@aol.com
November 11, 2008
The Honorable Marty Markowitz
Brooklyn Borough President
Borough Hall
209 Joralemon Street
Brooklyn, New York 11201
Dear Marty,
My sincere thanks for convening the hearing on Monday night. It was a welcome opportunity to bring our local communities together and learn more about the hospital's current crisis. As I did not speak on Monday night, please add my letter to those in support of maintaining LICH as our community hospital.
I heartily agree with the doctor's plan, and request that every effort be made to open the conversation with Continuum towards restoring LICH operations and management to LICH.
I cannot accept the fact that a corporation has been allowed to decide the health care of so many. How could a corporation be allowed to determine the access to health services for the whole of downtown Brooklyn and the surrounding communities? Where is their obligation to the public they have stripped of services? This cannot be allowed to continue.
I know that you and our other local elected officials recognize the severity of the risk in permitting Continuum to continue to dismantle the services at LICH. I am confident that you will work with us, the doctors and communities to restore the vital services LICH provides. Please let me know how I can help.
Thank you!
Best,
Maria Pagano
CC: Toomas Sorra, MD

LONG ISLAND COLLEGE HOSPITAL IS OUR
COMMUNITY HOSPITAL!
WE NEED LICH HEALTHY AND WHOLE.
Letter from Farrell
As a graduate of the school of nursing and an instructor ( I teach child birth education and have for 29 years at LICH ) I know we could be a premiere birthing facility and people would flock to us instead of going to Manhattan.
Our staff REALLY care , they are smart and they exist like a family ..... we need to return to that sense of family. There used to be a time when you would walk through the halls and if there was paper or a spill it would be picked up , covered and housekeeping called...PRIDE ..OUR HOME.... That's What's Missing.
As far as ob we need to give the people what they want: private space, spouses to stay and a clean environment ..... we have a GREAT VIEW!!
instead of blocking rooms for admission ( 5 rooms are currently blocked) open them up to be private , charge a minimum fee and provide support( there are plenty of staff willing and able to support ). remember we were one of the first OB depts to have ROOMING- IN .WE are PROGRESSIVE ...Let's Show it .....
We have GREAT Docs, who have a life INVESTED in LICH , they grew here ... they need to share their experience and knowledge.... demand the same level of performance as was ALWAYS REQUIRED.
The community is young, yes demanding , but that's no different then LICH has ever faced. Our patients , Doctors and leaders were always DEMANDING. We worked to accomplish that level of care.RAISE THE BAR ....PROVE WE CAN DO IT.
WHAT CAN I DO ??
 Rosemarie F.Farrell , RN, BS
Letter
Long Island College Hospital is now in its Judas hours, as Jesus thought Judas would be behind him as one of his followers, LICH has the Continuum.
When LICH merged with Continuum, it was under the false pretense that we would be saved from the debt that we were in, and given another chance to service our faithful, deserving patients. These patients not only live in the surrounding areas, but visit from Staten Island, Long Island, New Jersey, and elsewhere.
However, unbeknownst to us, Continuum slowly diverted much needed funds and resources from LICH into its own pockets, providing them with pristine facilities and equipment, while LICH continued to use sometimes outdated ones, still bestowing compassion and top notch care to its patients.
What a travesty this is, now the quick fix for Continuum is to close the much needed OB/GYN department, are you kidding us????, where should the women in the neighborhood go to deliver their children? Already involved in a relationship with their doctors, they would have to go the other hospitals and meet with strangers? Some of these women and their families walk to LICH, as they do not even have the resources to take the train or bus. Did your mothers have their children delivered by strangers? What malpractice suits? , what hospitals don't have problems?
We don't think this is the answer to this problem, why don't they close some of the departments at BI, and divert some of those funds to LICH, why aren't some of BI properties sold to help LICH, instead of closing departments that have serviced countless patients, including some of us for many years? Looks like they own countless properties that they could do away with, perhaps they want the patients to visit BI and have more LICH money thrown into BI to purchase even more modern machinery and do more reconstruction.
Well, as we said Judas betrayed Jesus.
Thank you for your attention,
Concerned and devoted employees and employees that are patients of our LICH.
Zuardo letter
To whom it may concern,
I would like to share my story of a recent 3 month stay at LICH NICU. My son was born on March 7, 2008 he was suppose to come in mid June. He weighed 1'14 ounces and was only 13 inches long this making him a micro preemie.
We were first time parents and it was a terrifying sight to see your baby so so small and so sick. It was far from the dream we had in mind.
Right before his delivery the NICU doctors tried to prepare us for what we were about to face and as my husband and I sobbed I saw the tears in the doctors eyes and felt much compassion from her.
I will never forget the first time I saw my son in the NICU nothing could ever prepare you but the nurses took the time to explain as much as they could and made sure I felt comfortable enough to trust them so I could recover. I have never met a group of doctors and nurses so dedicated and loving as the NICU staff at LICH. Being there for 3 months we really got to know each other well. I'm not sure how I left at the end of the day but the staff took care of my son as if he was there own they loved every baby that came through those doors and work hard to keep them all alive. They cried with me and felt my joy when I was able to take my little boy home.
I would of never gotten through this experience without them. I will forever hold them dear to my heart.
The NICU staff has worked together many many years it pains me to think they may break this hard working family up. Please do all you can to not let this happen and if there is anything I can do I would and will.
Thank you,
Melissa Zuardo